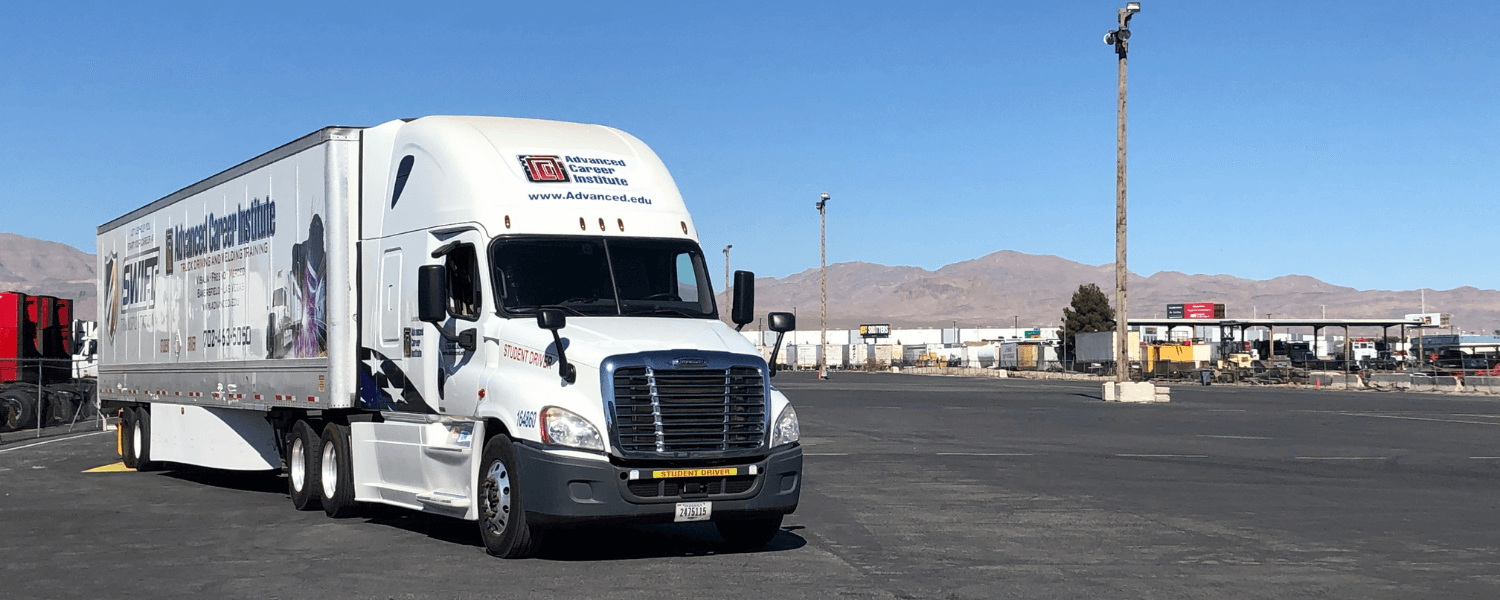 Las Vegas Truck Driving School with ACI
Las Vegas Class A CDL Training at Advanced Career Institute
At Advanced Career Institute's Las Vegas CDL training school, students are offered a hands-on CDL training experience. Our Las Vegas truck driving school provides basic  Class A CDL training, Ag Transportation training, and a CDL Refresher Course.  ACI's training program is for anyone interested in pursuing their CDL License in Las Vegas. Student drivers will begin in the classroom, then move behind-the-wheel in our practice yard, then onto the road.  After completing training at our trucking school in Las Vegas, students will be well prepared to begin an entry-level job in the trucking industry and Advanced Career Institute staff will assist them with job placement.
What Will I Learn?
Advanced Career Institute's CDL instructors will work alongside you and help you succeed in getting your CDL license in Nevada. In the beginning, we will help you prepare to take the DMV written CDL permit exam. The remaining part of the class will teach pre-trip inspection techniques, vehicle maintenance, emergency maneuvers, and all other behind-the-wheel skills required by the DMV.
After students finish their classroom training, they will move onto behind-the-wheel training. You will learn everything you need to know to become a successful truck driver and have a prosperous career in trucking. Our success depends on the success of our students. ACI works hard to be one of the best truck driving schools in Las Vegas.
Which Endorsements Can I Get With My Class A CDL License?
In addition to passing your written permit exam and CDL skills test at our school, you have the opportunity to obtain endorsements, including:
Air Brakes
Combination Vehicle
Doubles/Triples
Tankers
Hazardous Materials*
*Per Federal Regulations, additional criteria must be met to be approved for this Hazmat endorsement.
Note: You must pass the written CDL Permit exam and the behind-the-wheel driving exam with the DMV in order to pass this course. Students will not be permitted to drive on public roads until a CDL permit has been obtained.
Program costs for the transportation programs covers all classroom and behind-the-wheel instruction necessary to take the written & behind-the-wheel exams at the DMV.
Drug Screen, DOT Physical, and Class A permit with endorsements are non-refundable charges and are included in tuition. All Re-test fees will be the student's responsibility.
As a nationally accredited institution, we are authorized to offer various financial aid programs to those who qualify, though Financial Aid is not available for all of our programs. Our Financial Aid staff will work with you to determine your eligibility, and complete the application process.
Click here for information on available Financial Assistance programs.
Admission to ACI and the Professional Truck Driver programs includes:

-- Must be at least 18 years of age. (The U.S. Department of Transportation (DOT) requires that all interstate drivers be at least 21 years of age.  Applicants less than 21 years of age must provide a letter of intent to hire from a prospective employer.)
-- Must have high school diploma or equivalent.
-- Must provide a driving record free of current serious violations
-- Must be able to pass a Department of Transportation (DOT) physical as required by Federal & State agencies.
-- Must be able to pass a drug screen when administered.
-- No felony convictions in the past five (5) years. All criminal records are subject to review and may be required to provide a letter of intent to hire from a prospective employer.
Your Admissions Officer will cover any and all additional enrollment requirements for those who wish to enroll at ACI as a regular student, and will provide a list of items that must be completed prior to enrollment.